powerful Loan Department | Charity |

Update from Kenya: Africa and Micro Forestry and Loans
powerful lending team | Loans | Global Impact | Join Kiva | Pi Loan Zip | Lender Profile |
kenya,planting,trees,farmers,drylands,environmentally,income,kiva,loans,planting,
eucalyptus,tree,technical,training,termiticide,aquamatrix,seedlings,survival,africa,
rain,trainings,growth,microforestry
Thank you for your continued support as we reflect on yet another successful planting season here in Kenya, at Kiva Field Partner Komaza. During the October 2014 rainy season, we planted 110,000 trees with 500 farmers in the Kenyan drylands! The farmers are very excited by the partnership opportunities with Komaza, which will earn their families an environmentally-sustainable income.
Kiva loans, including the one you helped fund, were used to purchase planting inputs for either a 3/4 acre eucalyptus or 1 acre melia volkensii tree farm, as well as to provide technical training and support to farmers. These inputs included seedlings for both types of farms, and additional inputs for eucalyptus farms including termiticide, and a water-retaining polymer called AquaMatrix. Termiticide assists the trees to combat damage caused by termites and AquaMatrix retains water at the base of the seedlings to provide longevity of survival during the crucial first months of the seedling's life, slowly releasing moisture as the growing tree needs the hydration. AquaMatrix is imported from South Africa and is specially designed for dryland agro-forestry operations.
For this latest season, Komaza posted 76 loans representing 285 farmers and managed to raise a total of $50,600, with one of the loans being funded within a record 38 minutes!
Trees planted during April 2013 long rain season are doing well, with most averaging between 2 to 3 inches DBH (Diameter at Breast Height). The farmers are enthusiastic and adhere to the technical trainings provided by Komaza in order to ensure growth of high quality trees in anticipation of higher income in future. 
We greatly appreciate your support of microforestry and highly value your contribution to the successful planting of over 6,000 tree farms with more than 5,000 dryland farmers since Komaza's inception in 2008!
Kind regards,
The Komaza Team
Kilifi, Kenya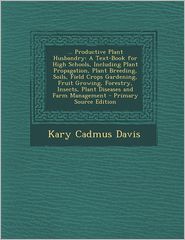 ... Productive Plant Husbandry: A Text-Book for High Schools, Including Plant Propagation, Plant Breeding, Soils, Field Crops Gardening, Fruit Growing, Forestry, Insects, Plant Diseases and Farm Management

Related: