Wal-Mart.com: Augason Farms Fruit Emergency Food Storage Kit, 6 count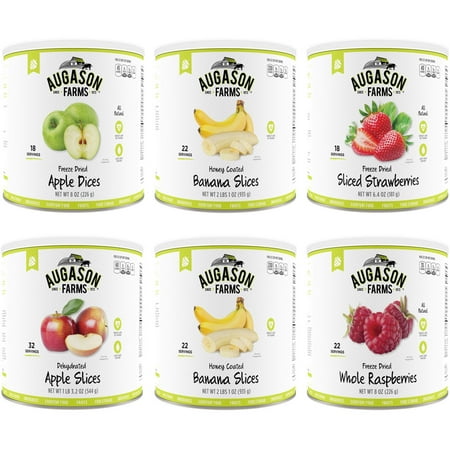 Augason Farms Fruit Emergency Food Storage Kit, 6 count
From their family to yours, Augason Farms has produced the best food storage
for two generations. With over four decades of experience formulating and manufacturing
the best-tasting, most wholesome products in the industry, they meet or exceed all your food storage
and emergency preparedness needs. Quality is their watchword. It's delicious peace of mind.
The Augason Farms Fruit Emergency Food Storage Kit makes it easy to always have flavorful,
healthful fruit on hand, whether for emergency storage or everyday use. All of the Augason Farms fruits-apples, bananas, raspberries and strawberries-are delicious right out of the can
and are easy to rehydrate for a variety of uses, from cooking to snacking. In an emergency,
getting fruit into your diet can prove problematical. So, Augason Farms has assembled this collection
of fruit favorites. That way, the tart, natural taste and nutritional benefits of fruit can be yours anytime.